Introduction
Cricket is not just a sport; it's a way of life for millions of fans around the world. Whether it's a high-stakes international match or a thrilling T20 league game, the excitement of live cricket can be unparalleled.
However, with our busy schedules and the limitations of television broadcasts, it's not always possible to catch the action on the big screen. This is where mobile apps come to the rescue. In this article, we'll explore the top 6 apps that allow you to watch live cricket matches anytime, anywhere.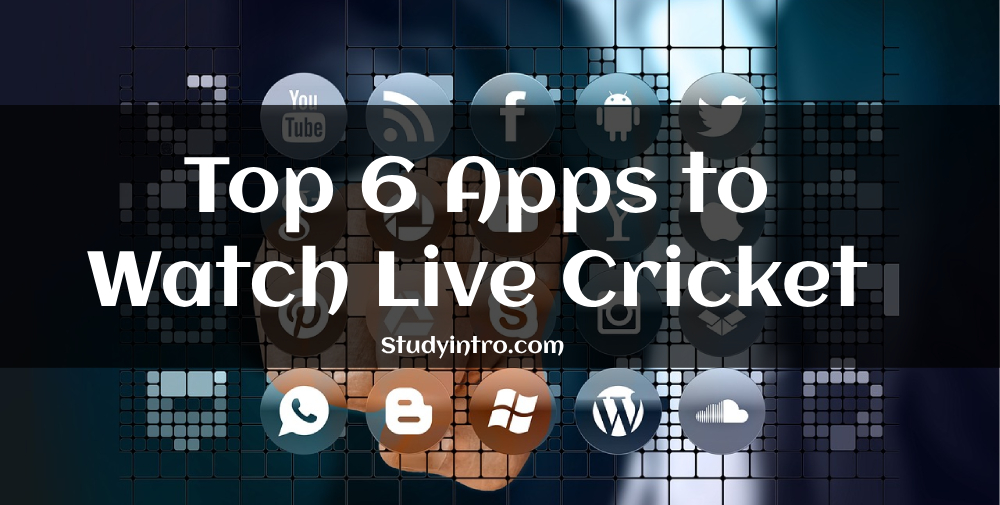 1. Hotstar
Hotstar has become synonymous with live sports streaming, especially cricket, in India. Owned by Disney, Hotstar offers a wide array of live cricket matches, including international and domestic games. With a user-friendly interface, Hotstar provides a seamless experience for users.
It offers free live streaming with a slight delay, and a premium subscription unlocks the full library, including live IPL matches and other cricket events. Hotstar's adaptive video quality and the ability to watch multiple camera angles make it a top choice for cricket enthusiasts.
2. Willow TV
Willow TV is a dedicated cricket streaming service, making it a must-have for cricket lovers in the United States and Canada. It provides live coverage of various cricket events, including international matches, IPL, and domestic tournaments. Willow TV offers multiple subscription options, and it's compatible with various devices, including smartphones, tablets, and smart TVs. With Willow TV, you can enjoy high-quality live streaming and comprehensive coverage of cricket games, all with a special focus on the US and Canadian audiences.
3. Abbasi TV
One of the standout features of Abbasi TV is its ability to stream a wide array of live TV channels. Users can watch their favorite TV shows, news, and events in real-time, eliminating the need for a traditional television set. This feature is particularly appealing for users who are on the move or prefer to watch content on their mobile devices.
Abbasi TV doesn't just limit itself to general entertainment; it also caters to sports enthusiasts. Users can enjoy live sports events, including cricket matches, football games, and more.
This feature is especially popular among cricket fans in Pakistan, as it provides access to both local and international cricket matches.
4. SonyLIV
SonyLIV is another popular choice for cricket streaming, especially in India. With a vast library of live cricket content, it's an ideal choice for those who want to stay updated with the latest cricketing action.
SonyLIV offers a combination of free and premium content, and its coverage includes international matches, IPL, and other cricket tournaments. The app's intuitive interface and the option to catch up on missed games add to its appeal. SonyLIV also provides live commentary and in-depth analysis, enhancing the viewing experience.
Cricbuzz is more than just a cricket app; it's a cricket companion. While it doesn't offer live streaming, it's an invaluable tool for cricket enthusiasts.
Cricbuzz provides ball-by-ball commentary, live scores, player statistics, and a plethora of cricket news. You can personalize your experience by following your favorite teams and players, and the app's "Super Sixes" feature offers the most thrilling moments from matches. If you can't watch live but want to stay updated, Cricbuzz is the go-to app for cricket information.
6. Sky Go
Sky Go is a leading app for cricket lovers in the United Kingdom. It's an extension of the Sky Sports channel, providing live streaming of cricket matches, including England internationals and other global events. With a subscription to Sky Sports, users can access Sky Go, making it a convenient option for those who are already Sky customers. The app offers a user-friendly interface, along with live scores, highlights, and expert analysis. Sky Go is your ticket to uninterrupted live cricket action in the UK.
Alternative 2 Apps
How to Watch Live Cricket via ARY ZAP App & Daraz
Cricket is more than just a sport; it's a passion, a way of life for millions of fans across the globe. The thrill of watching live cricket matches, the excitement of every boundary, and the suspense of a last-over finish are experiences that every cricket enthusiast cherishes.
Thanks to the ever-evolving digital landscape, fans now have multiple avenues to catch their favorite cricket action. Two prominent platforms, ARY ZAP App and Daraz, have made it easier than ever to watch live cricket. In this article, we'll explore how you can use these platforms to stay connected with the cricketing world.
ARY ZAP App: Your Entertainment Hub
ARY ZAP is a comprehensive entertainment platform that offers a wide range of content, including live cricket matches. It's a go-to destination for cricket lovers in Pakistan and around the world. Here's how you can watch live cricket via ARY ZAP:
1. Download and Install the App
– If you're using an Android device, visit the Google Play Store. For iOS users, go to the App Store.
– Search for "ARY ZAP" and download the app.
– Install the app on your device.
2. Sign Up or Log In
– Launch the ARY ZAP app.
– You'll be prompted to sign up if you're a new user or login if you already have an account.
– Follow the registration or login process to access the app.
 3. Explore the Cricket Section
– Once you're in the app, navigate to the "Sports" or "Cricket" section. You'll find a list of live and upcoming cricket matches.
4. Select the Match
– Choose the live cricket match you want to watch.
– Click on it to start streaming the game.
5. Enjoy Live Cricket
– Sit back and enjoy the live cricket action in high quality.
Note: Some content on ARY ZAP may require a premium subscription for full access. Check out the subscription plans to make the most of the platform.
 Daraz: Your Shopping and Streaming Destination
Daraz is another versatile platform that offers live cricket streaming in addition to its primary e-commerce services. Here's how you can use Daraz to watch live cricket:
 1. Download the Daraz App
– Visit the Google Play Store (for Android) or the App Store (for iOS).
– Search for "Daraz" and download the app.
– Install the app on your device.
2. Login or Create an Account
– Open the Daraz app.
– If you're already a Daraz user, log in using your credentials. New users can create an account.
3. Navigate to "Daraz TV"
– Daraz offers a dedicated section called "Daraz TV," where you can find live cricket streams and other video content.
– Locate and select "Daraz TV" from the app's menu.
 4. Select the Cricket Match
– In the "Daraz TV" section, you'll find information about live cricket matches.
– Choose the match you want to watch.
 5. Enjoy the Cricket Action
– Kick back, relax, and immerse yourself in the live cricket match.
Note: Access to cricket streaming on Daraz may require a subscription or a nominal fee, depending on the specific match or event.
Why These Platforms?
Both ARY ZAP and Daraz offer unique advantages for watching live cricket:
– Accessibility: These apps are easily accessible, making them user-friendly for people of all ages.
– Variety: They provide a diverse range of content, not limited to cricket, so you can explore more than just sports.
– Global Reach: ARY ZAP and Daraz are accessible internationally, making them perfect for cricket enthusiasts around the world.
– Quality: The streaming quality is top-notch, ensuring an excellent viewing experience.
In conclusion, ARY ZAP and Daraz are excellent choices for those looking to watch live cricket matches conveniently on their mobile devices. Whether you're an avid cricket fan or just want to catch the latest match, these platforms have you covered.
Simply download the apps, sign in, and get ready to experience the excitement of live cricket, all from the comfort of your own device. Enjoy the action, cheer for your favorite team, and never miss a moment of the cricketing action!
Conclusion
In this digital age, you don't have to miss a single ball or boundary of your favorite cricket match. Thanks to these top 6 apps, you can watch live cricket wherever you are. Whether you're in India, the United States, the United Kingdom, or anywhere else in the world, these apps provide the opportunity to stay connected with the game you love.
So, whether it's the thrill of an India vs. Pakistan clash, the excitement of the IPL, or the intensity of a Test match, these apps have got you covered. Download your preferred app, grab some popcorn, and get ready for an unforgettable cricketing experience.