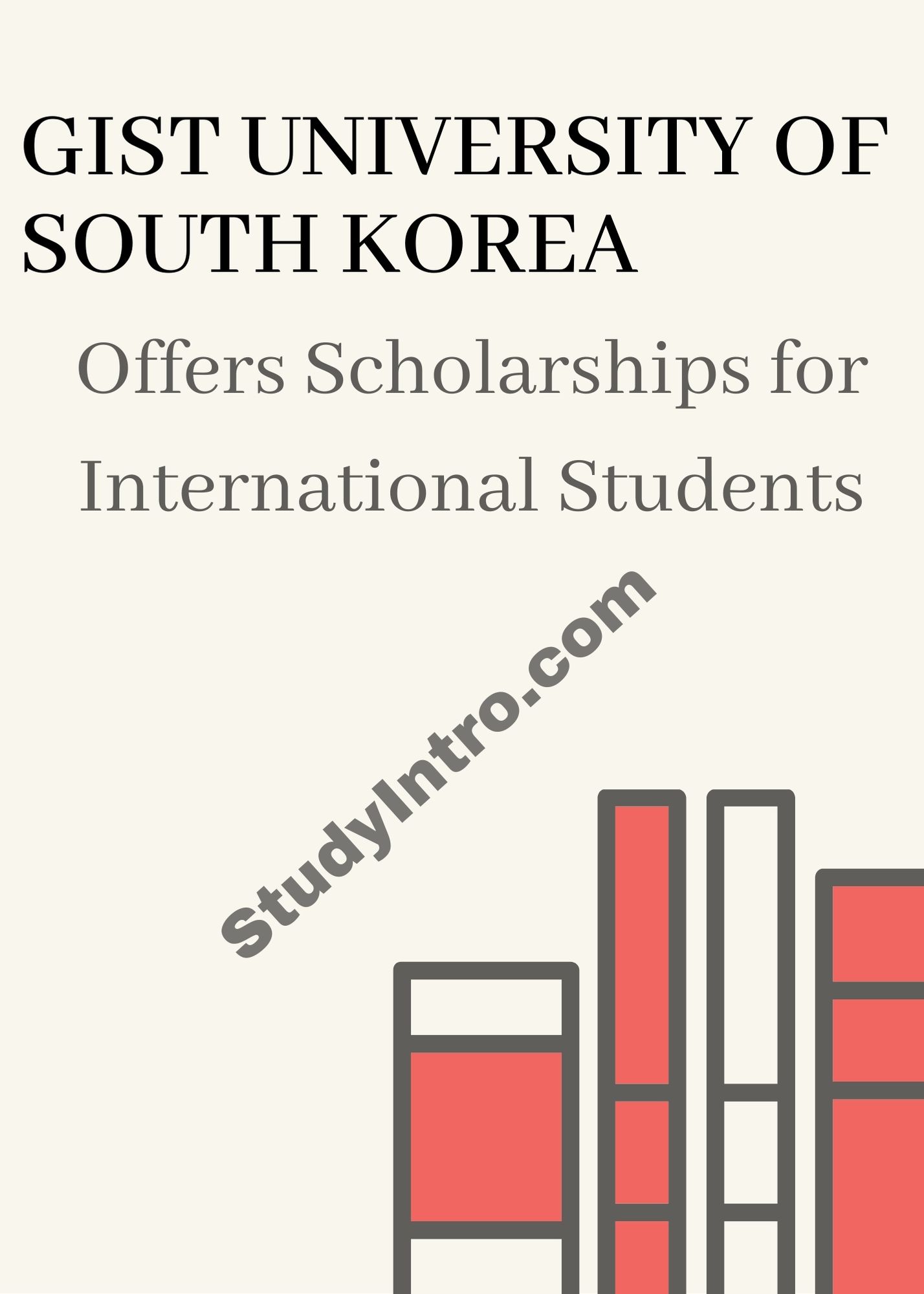 GIST( Gwangju Institute of Science and Technology) offers fully-funded Scholarships for International Students. The Gwangju Institute of Science and Technology is a public research-oriented university in South Korea. GIST is one of the best schools in the field of Science and Technology. It is located in Gwangju, South Korea. It was established in 1993.
GIST University of South Korea awarded the Scholarships of Undergraduate programs to Internation Students from all around the world. This is the best opportunity for all the International Students who want to Study Abroad. Because the undergraduate Scholarships program provides fully-funded Scholarships from GIST university. Because it endurance all the expenses of students including flight and visa fee.
GIST(Gwangju Institute of Science and Technology) assists the students to advance their knowledge in Science and Technology. Students will foster their leadership skills and research tools from the pioneers.
The Gwangju Institute of Science and Technology offering opportunities for graduate and undergraduate courses in South Korea. GIST university offers Scholarships annually for international students. Nowadays, the Applications are taken for fully-funded Scholarships at GIST university south Korea. At GIST university, the study of undergraduate programs is taught in the English Language for all international students.
South Korea has a large number of educational institutes in the world. There are thousands of scholarships available for international students in South Korea.
Undergraduate Programs:
GIST University of South Korea offers the following undergraduate degree programs:
Electric Engineering
Computer Science
Mechanical Engineering
Social Sciences
Physics and Photon Sciences
Biomedical Engineering
Chemistry and Chemical Engineering
Information Technology
Environmental Engineering
Earth Sciences
Benefits of GIST Scholarships:
The Benefits of Scholarships from Gwangju Institute of Science and Technology are as under:
It Covers fully tuition fees for students
All Flight Expenses
Student's allowance almost 1,30,000 Won per month.
Meal allowance for students is up to 2,70,000 Won.
Medical facility
Printing Costs
Award for Excellent Korean language proficiency
They will provide you hostels.
Eligibility Criteria:
The students must have the intermediate degree program for admission in undergraduate programs
The students must have the degree of Bachelor's degree for admission to the Master's program.
All International Students from worldwide can apply for it.
The citizen of South Korea is not eligible for these Scholarships program.
There is no requirement for SAT or GRE tests.
Required Documents:
Result sheet of intermediate
Degree of Intermediate
Recommendation letter
Passport
CV or Resume
National ID card or B-Form.
Parents Documents
IELTS test
Personal Statements
How to Apply:
The Candidate should visit their official website to know about admission criteria
Click on the Register button then fill the application form with your authentic information.
After completing this form, submit this form
After Submitting the request check your mailbox that you have entered in the Application form.
Deadline:
The last date to apply for the GIST(Gwangju Institute of Science and Technology) Scholarship program is 15 March 2021.
NOTE:
For More information about GIST university or APPLYING for Scholarship in South Asia, Must visit their official website by clicking the link below:
---
Read About: Turkey Offers Scholarships for International Students 2021.
Read About: Top Colleges for Intermediate in Lahore, Pakistan
Thank YOU___.