Join Pakistan Army as a commissioned officer through the PMA-148 Long Course. Join Pakistan Army as a 2nd Lieutenant. Pakistan Army is looking for groups of cadets for the PMA-148 Long course leading to a commission after 2 years of training at the Pakistan Military Academy (PMA) Kakul 2021. This Opportunity is a chance for the eligible candidates to join the Pakistan Army as a 2nd Lieutenant (Commissioned Officer).
The Registration for this PMA- 148 Long Course is starting from 17 April 2021. The Last Date to Apply for this Long Course is 17 May 2021. You can serve the Pakistan Army as a commissioned officer by joining the PMA Long Course.
PMA-148 Long Course:
Now We discuss the Eligibility Criteria to Join PMA -148 Long Course.
Eligibility Criteria:
You must have Clear Intermediate or Equivalent with a minimum of 60% Marks.
The Candidates who secured 60% marks in Bachelors and 50% in Intermediate are eligible for this PMA-148 Long Course.
The Candidates who are applying on the basis of Intermediate or Equivalent. Their Age should be Between 17-22 Years with 3 Months of Relaxation.
The Candidates who have clear their graduation. Their age should be in between 17-24 Years with no age relaxation.
The Candidates who already serving the army as Soldiers should have ages of 17-25 years with no age relaxation.
Only Male Candidates can apply for this PMA -148 Long Course.
The Candidate should be unmarried at the time of Applying for this PMA-148 Long Course.
The minimum height is 5 ft 4 inches (162cm).
Weight should be as per body mass index (BMI).
All the Citizens of Pakistan and the Domicile holders of Azad Kashmir and Gilgit Baltistan can apply for this PMA long Course.
Dual Nationality holders can also apply for this PMA-148 Long Course. But You have to surrender the other nationality at the time of final selection.
Ineligibility Conditions:
Twice Rejected by the Inter-Services Selection Board (ISSB).
Twice Screened out by the Inter-Services Selection Board (ISSB).
Dismissed from the Government Services including Pakistan Army.
Convicted in a court of law for any heinous offense.
Permanently declared unfit by AMB.
The Candidate having the disease of Hepatitis B and C can not be requested.
How to Register Yourself:
You can register online yourself by filling the Registration form at their official website of the Pakistan Army. For Online registration, You can click here.
Registration at Army Selection Center:
If you don't have Internet access and Cant applies Online. You have to visit your nearest Army Selection and recruitment center with you all the original documents including CNIC, Result Sheets of Matric and Intermediate, 3x Passport Size Pictures.
Preliminary Selection:
For the Selection, You have to clear and pass out all the following Exams.
Written or Intelligence Test:
In this Exam, You have to Pass the 3 Tests named Verbal, Non-Verbal, and Academic test. Verbal and Non-verbal are truly based on Intelligence and Academic Portion including English, Maths, Pak Studies, Islamiyat, and General Knowledge. There are totally MCQs in this Exam.
In Medical They will check You Cholesterol Level, Diabetes, Blood Pressure, EyeSight, and Positions of your bones and anckles.
In Physical, You have to Clear all the following requirements.
1.6Km Running in 8 Minutes
15 Pushups is 2 Minutes
3 Chinups in 20 minutes
20 situps in 2 minutes
You have to cross a 7.4 ft ditch.
The Interview will get by the National Security and War Course Qualifiers (Brigadiers). The Interview has 20 Marks for Students.
In the Interview, They Will Check Your following things:
Expression and Confidence
Knowledge about GeoGraphy and Pak Studies
Knowledge about Current Affairs
Over All Outlook and Dressing
Extra Co-curricular Activities.
Tips to Get Success in Interview
After All these Processes the Clearing candidates called by ISSB. And the Final Selection will be held at General Quarters on the basis of candidate performance.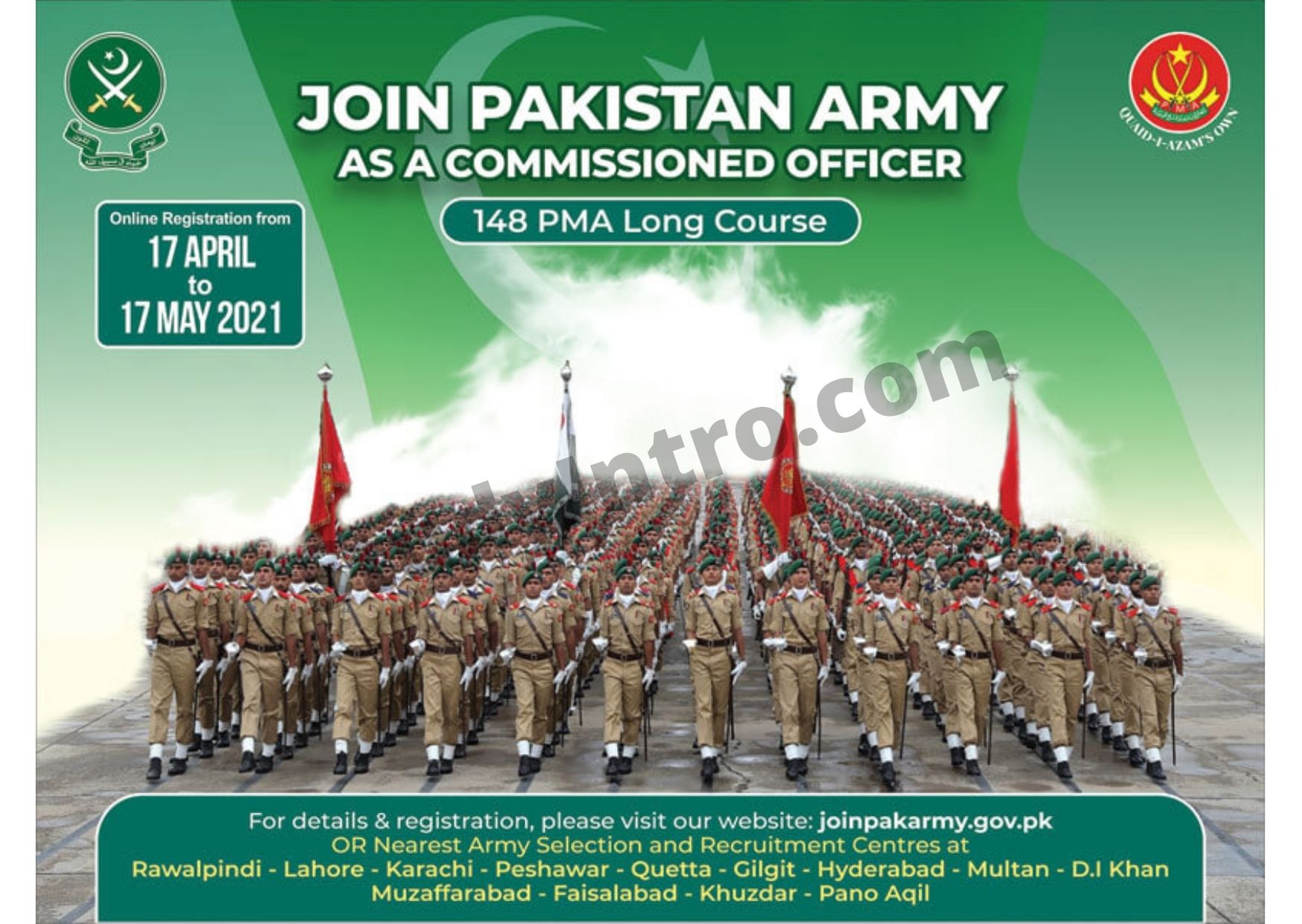 For More Information about Pakistan Army Visit their Official Website by Clicking the Link below
PAK ARMY